Light
$1,999/mo
8 custom-designed graphics
1 round of revisions on each
delivered in .jpg, .png, or .webp
extra design hours at $70/e
Essentials
$2,999/mo
12 custom-designed graphics
1 round of revisions on each
delivered in Canva or Figma
real-time Slack chat
extra design hours at $70/e
All in
$3,999/mo
everything in Essentials
1 new live WordPress page per month
extra dev/design available at $70/hr
yes: we can design your whole site if you have a multi-month contract. think 5, 6, 7 pages in advance ⚡️
Some of our design projects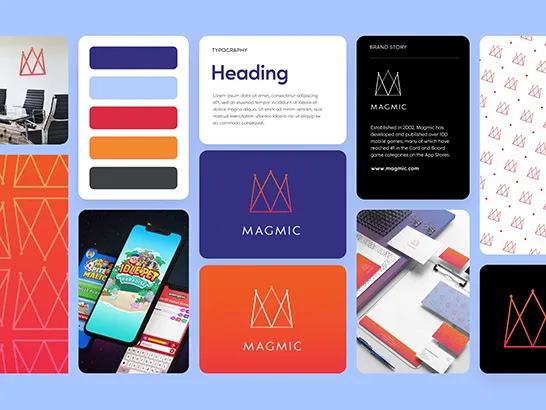 Brand design for a game development agency
faqs
like small print,
but huge 👀
What's your turnaround time?
Each graphic takes 3 business days to create. We allow 1 business day for client revisions and spend up to 2 more days incorporating them. Quick edits might take us less time to complete.
What app do you design in?
In the Light plan, we deliver ready-to-use .png, .jpg, or .webp graphics. In the Essentials plan, we can deliver designs as Canva templates or Figma files, depending on your preference. For slide decks, we are able to deliver Keynote, PowerPoint or Google Slides in all plans. Our All-in plan includes one new WordPress page per month, delivered as a live page once you provide admin access to the site. We also share a Figma prototype for review before building the page.
How does WordPress page design work?
Every month, we'll design one new, custom page for your website. First, you'll receive a Figma mock with a design proposal to review. We'll hold one round of revisions. Once that is approved, we will proceed to build out the page. Once you've granted access to your WordPress admin, we will QA and deploy the page.
How do you define a graphic?
Graphics are individual design pieces that fit within a single artboard. Here are some examples of graphics we can design for you:
social posts, stories, videos, and Reel/TikTok/video covers
blog post thumbnails and diagrams
paid ad graphics according to specs
website hero graphics and web banners
email graphics and banners
infographics
deck slides
Some graphics are naturally more complex than others. Here's what those special visuals are equivalent to as it relates to our monthly packs. You can always top up your monthly graphics with additional design hours.
| | |
| --- | --- |
| Type of visual | # equivalent graphics |
| Animated social story | 2 |
| Social reel/video (for organic or paid) | 4 |
| Infographic | 4 |
| Website banner | 1 |
| Static ad creative (per size) | 1 |
| Blog thumbnail | 1 |
| Social carousel (5 slides) | 3 |
| Deck slide | 1 |
| Logo design | 10 |
Who are you?
This is our service pack for design-driven businesses that need a partner to bring ideas to life fast. We've been designing brands and developing websites since 2008 and are ready to bring a wealth of experience to level up your brand — no excuses.
Nice to meet you, we're Ozone
questions?
let's get those sorted 👋
Schedule a 15-min Zoom call and we'll walk you through our process + anything else you'd like to know